The Wardrobe Item Kendall Jenner Relies On Most Is Wonderfully Simple
We all have that item in our wardrobe that we rely on most. Me? It's a toss between a faux-fur coat and platforms. Kendall Jenner's is the white T-shirt. Simple, easy and forever wearable, it's a staple that she regularly looks to. Whether it's backstage at Fashion Week or teaming one with those Saint Laurent boots for her 22nd birthday celebrations, a plain white tee is a frequent addition. As she told Miss Vogue previously, it's something she never is without: "I'll always have a really good plain white T-shirt."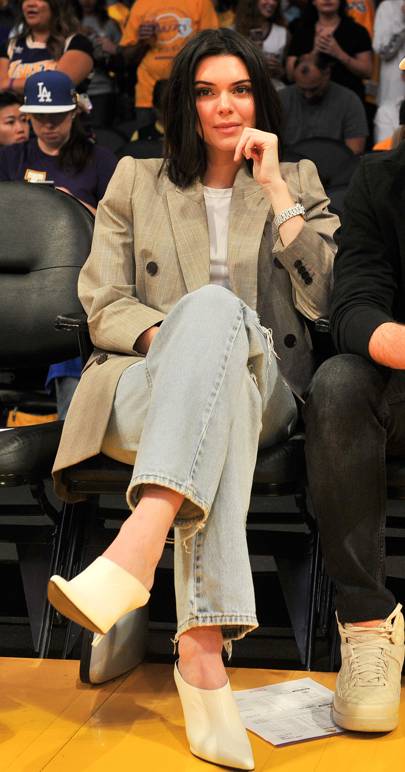 That's not to say that she doesn't mix it up though. She pushes the simple piece to its most creative boundaries: cropped versions, long sleeved, and pairing them with all manner of ensembles.
Here are our favourite ways she's worn them:
Celebrating turning 22 with her family, Kendall wore a ultra small white T-shirt vest with megawatt Saint Laurent boots.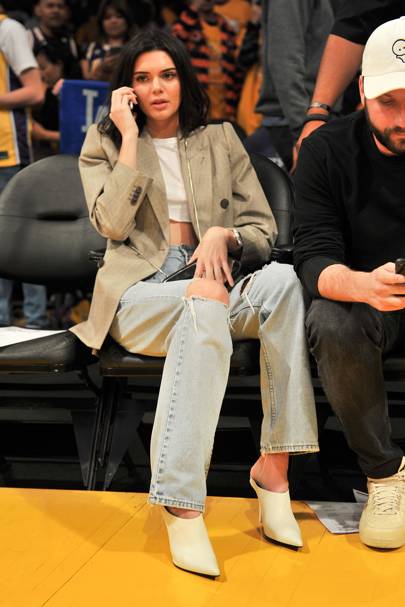 Dressing this super cropped version up, Kendall teamed it with a checked blazer, stiff jeans and white mules, while also debuting a shorter hairstyle.
This look is one of Kendall's most directional off-duty looks to date. This plain white tee proved to be the perfect supporting act for her mannish striped suit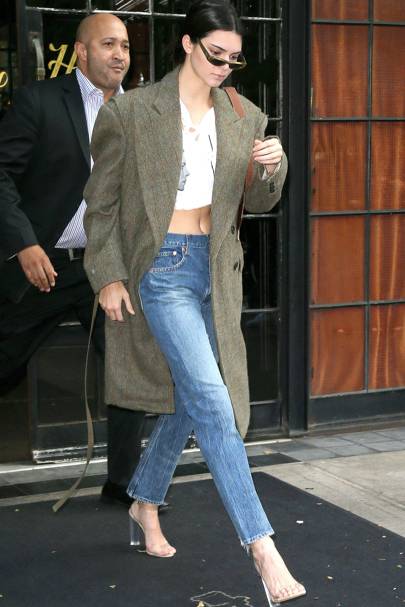 Slim jeans, tiny sunglasses, barely-there sandals and an oversized coat are well matched companions for this printed version.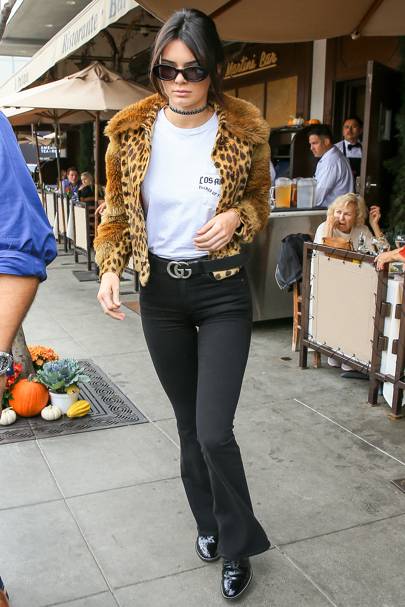 A look to love. Kendall chose a tee with a little logo to pair with flared jeans and a patchwork furry jacket.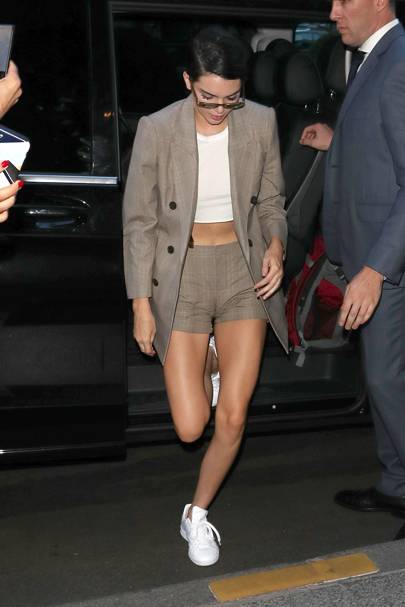 Taking this co-ord to more casual territories, she teamed this slightly cropped T-shirt with white trainers to form a dream team.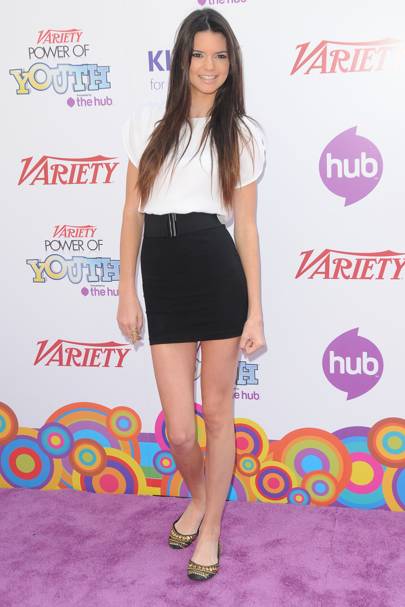 The proof is in the picture. Kendall chose a loose and floaty style for an early event appearance in 2010.
Teaming it with a camisole, Kendall used this white T-shirt to complement her statement trousers.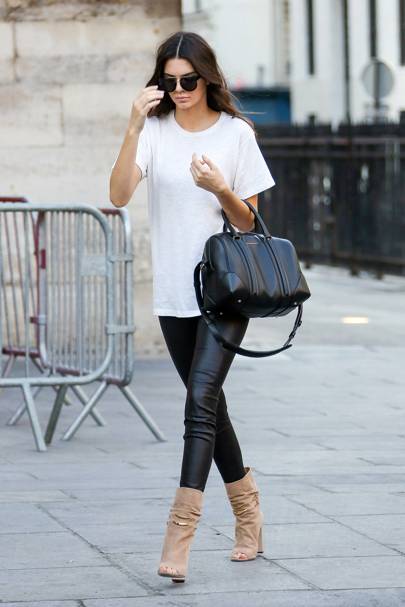 Relaxed and oversized, this white T-shirt with black leather leggings became a signature KJ look.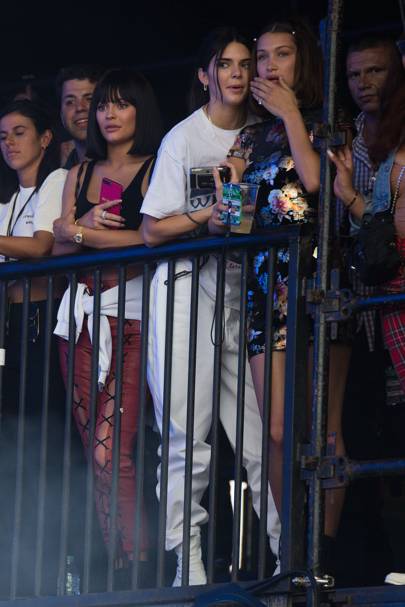 Anyone who braves full-look white for a festival deserves credit. Kendall teamed a retro-style with tracksuit bottoms and ankle boots.
It's not just the plain white T-shirt that Kendall's a fan of, white boots are a regular outfit mate for her catalogue of tees.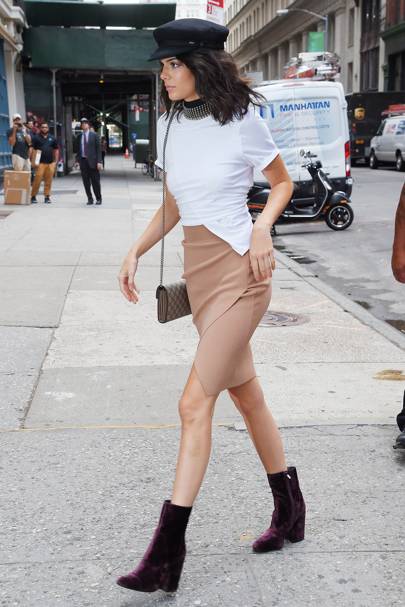 Tucked in, tucked out – this tee is more than initially meets the eye.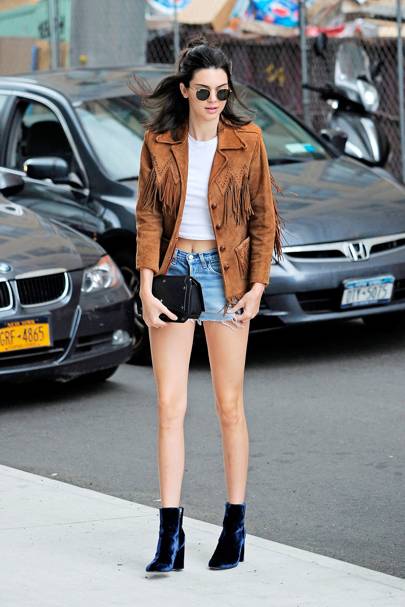 Bringing out its all-American appeal, Kendall wore a slim-fit style with her western fringed jacket.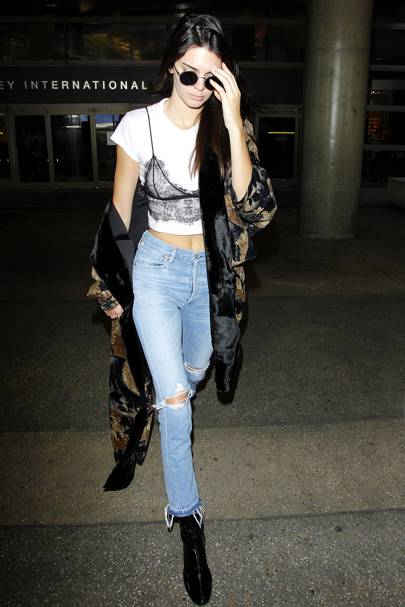 In a look now much emulated, she chose to layer a cropped style with a lacy bralette.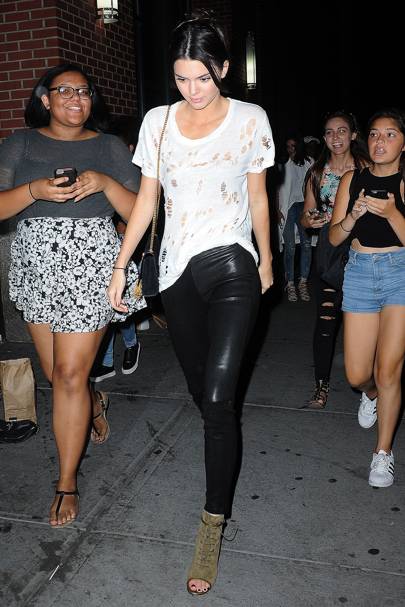 A classic Noughties look – this white T-shirt proves the wardrobe staple's broad potential.